Shane Conaway

I used to have a Fuchs ODS and I think the sound of this pedal on my Carr slant 6 and Fender's is BETTER and closer to the real dumble sound than those other Dumble inspired amps.

I am going to use this as an opportunity to let many guitarists in America know that this pedal is BETTER than a Zen Drive.
Shane Conaway Zenkudo pedal demo
http://youtube.com/watch?v=X88ekDraPPA

http://reviews.harmony-central.com/reviews/Effects/product/Tanabe/Zenkudo/10/1
MR TANABE,

THE ZENKUDO ARRIVED SAFE TODAY, THANK YOU.

IT IS THE BEST PEDAL I HAVE EVER HEARD !!

I HAVE BEEN PLAYING FOR THIRTY FIVE YEARS, I USE OLD 1959 GIBSON 335
AND ORIGINAL EARLY SIXTYS FENDER AMPLIFIERS.

THE SOUND OF THE ZENKUDO IS FANTASTIC AND PERFECT IN USE WITH VINTAGE
EQUIPMENT.

THANK YOU VERY MUCH,

I HOPE YOU HAVE GREAT GOOD FORTUNE WITH ZENKUDO.

IT WOULD BE GREAT IF WHEN PLAYING A SOLO, THE "THREE DIFFERENT TONES"
COULD BE SELECTED ON THE PEDAL BY A FOOTSWITCH !!!

DAVY SPILLANE, IRELAND
Toshihiko:

Got the pedal today - it sounds GREAT!!!Excellent harmonics and sustain.. I hear what you mean about the response with single coils.. but it sounds very nice, and I use a boost pedal to bring the response up to humbucker levels and it sounds really great. One of a kind really.

Thanks so much, it's a keeper, warm regards`
Paul Jackson, Jr.
The pedal sounds great. Best for me with both sides on. Swithc to left
on the pre OD and in Zen mode on the right. I'll get around to some clips
soon.

S.L.X
Mr. Toshihiko Tanabe!
What a great pedal! Thank you! My other pedals sound like crap compare to yours! ItLs a pleasure to have/ play one! Thank you! Yours truly / Bobbo in Sweden ( Zenkudo black #124 )
Greetings Toshihiko,
Zenkudo received.....WOW!!!!!!!
Great job, sounds incredible.
Thank You, John
IT IS GREAT!!!! REALLY GREAT.

DOMO ARIGATO GOZAIMASHITA

DEMO SOUND
best, Henry Kaiser
Hi! the pedal is amazing!

Hyban Sparda ( Demenced )
I received the pedal today and played a concert with it tonight. I am very happy with it. it sounded excellent. I played it with one side in Dumble mode and the other in Marshall mode. Thank you very much for a beautiful pedal as well as the extra thought you put into its packaging.

Regards and best wishes,
Hi Toshihiko,

I got the Dumkudo through and have played with it. Youfre right, it is just like the Zenkudo except itfs got more gain. Such a lovely sound and a very unique design decoration!!

Thank you,
Jason Sidwell (senior music editor "Guitarist " UK)
Dear Mr Tanabe

Thank you so much for the rapid delivery of my Zenkudo pedal.

I have had a good play now and it is awesome!!
Congratulations on a wonderful product, I think it is the best pedal I have ever bought.

Best wishes

ross
I just got the pedal, thank you so very much, it is a wonderful sounding pedal on all 3 modes. The packaging is just incredible. Quite pedal.
Thanks again Mr. Tanabe
Sincerely
Mario
Hi Toshihiko,
I have an early 80`s Ibanez TS09, a USA Rat pedal that I purchased in 1985 plus a limited edition Zendrive.Your pedal by far is the best overdrive pedal I have tried!The ultimate overdrive.
Regards John
Got the pedal safe and sound.
Thank you for the great packing and a great pedal!
Very beautiful and useful tones out of it.
Absolutely love it!

Gary
hi Tanabe-san,

The Dumkudo arrived today and it sounds fabulous! Thank you for the quick build and shipping. So far I've tried it with my Tele and Deluxe Reverb and I like it a lot... great midrange response.

Kind regards,
Sean
The pedal(DUM+ZEN TWIN CUSTOM)arrived today.
Oh my god.
This is the PERFECT overdrive pedal.
Congratulations.
Your are a genius.
:-))))))))))))))))))))))))))))))))))))))))))))))))))))))))))))))))))))))))))))))))))))

You can quote me
Neil Slade
www.NeilSlade.com
Music, Film, and Book Publishing
And RABID professional guitar, amp, and pedal user.
Hi Mr.Tanabe,
the pedal arrived to my house 3 hours ago,due to my slowwwww postal service,and I ve played it now for 2 hours,and I m impressed.I bought it mainly for my Strat,but when I plugged my PRS Archtop in it,it s HEAVEN!!!!Best sounding pedal I ve ever heard(in green mode),so thank you very,very much for the pedal,be assured I ll recommend Dumkudo to all of my friends.
Best wishes!!!!...........Roman.
Hi Toshihiko:
Got the pedal this afternoon. Very pleased with it. It does back up the hype it has received on the TGP forum. For my ears....it is the "dumble" pedal I have been looking for. Many thanks!
Bill Buchanan
I received the pedals today. They sound great !!!! Thank you very much !!!!!
Jack Shawde
www.jackshawde.com

Hi Toshihiko,

Im Giannis from Greece. I received the Dumkudo. I am VERY HAPPY !.
IT IS THE BEST PEDAL I HAVE. VERY CLEAN AND NATURAL OVERDRIVE.

Thank you very much Mr. Toshihiko
Giannis - Greece
Hi Toshihiko,
your pedals is fantastic!
Thank you so much!
Kind regards,
Emanuele - Italy
Hi Toshihiko,
I finally got to plug in the pedal I got from you... wow, it really rocks. So powerful, and so many tones in one box.
It is absolutely amazing, thank you.
All the best,
Peter in Hollywood
Hi Toshihiko,
I got the pedal today and tried it out. It sounds really good! I don't own many pedals, but I have been playing guitar many years and know yours is a great pedal.
Thank you!
Chito
Dear Toshihiko,
The Pedal has arrived today!!! Safe and beautiful!!! Thanks for the very
nice pack (and for the candies :) ).
I did not have a chance to play extensively yet. But I do played for one and
a half hour (with my Les Paul ) and my first impression is: GREAT GREAT
GREAT tone!!! I'm EXTREMELY happy. It was very dificult to put my guitar
down. I felt like my guitar was singing. For the first time in my life I
felt like I had a profissional tone. Just like in the albuns I like so much.
I'm still very excited. I can barely wait to play again tomorrow! I can
barely wait to see how it sounds with the band too. The sound was clear and
with lots of sustain. I'll try different configurations tomorrow and let you
know how I feel.
Thank you very much! Let me just say again that I'm very very happy.
Everything was very nice: the pedal, the pack and the candies... In
addition, I didn't have to pay a cent for the customs too. The pedal has
arrived directly to my house. A great surprise!!! And, man, what a fast
delivery! It must be a record.
All the best,
-Ricardo
It sounds Great!! Thank you very much, Howard
Howard Leese



2010-06-23

Dear Toshihiko-san: Just a note to let you know that I am now using the ZENKUDO in my live stage rig. My guitar tech and I were amazed at how quiet it is. I play through 4 Marshall stacks, so any added noise is very easy to hear. My tech wants to get one for himself. I use it for guitar solos, and it adds a richness and punch to my sound that is really glorious. Congratulations on making such a fine product! I am spreading the word here in the U.S. HML

Howard Leese
Mr. Tanabe-
I received the Dumkudo Pedal yesterday.
I used the pedal last night in our performance @ Ige's in Pearl City. It sounded fantastic w/my Tele. Thick, expressive and rich!! Definitely my best pedal purchase ever!! ( I have many, many pedals).
Thank you for making such an outstanding product! It was just what I was looking for.
Aloha-
Milton Koga
Mr. Tanabe,
I received the pedal on Thursday afternoon! Wow that was some fast shipping!
The pedal is wonderfully made and sounds fantastic. I'll be making a
professional video demoing the pedal soon. I'll send you the link to the
video as soon as I'm done. Again thank you so much for your wonderful
craftsmanship.
Chris Bullard
Hello Toshihiko,
I received my Zenkudo today. It was very fast shipping.
I have spent about an hour with it and it is very cool.
The Dumble mode is superb. The tone is awesome, I really like the controls, especially the voice control, it cleans up nice and still sings.
I am very pleased, it has already made its way onto my pedalboard.
I can't wait for myrehearsal tomorrow.
Your pedal will be heard in clubs next weekend.
Soon I will order a Dumkudo for my Stat.
You make a beautiful pedal.
Thank you,
Robert Wood
The pedal sounds great. Thanks for making my tone dream come true.

David Duncan
Hi Mr. Tanabe,
I have received the Dumkudo! What does the word "Dumkudo" mean? :)
-The sounds are excellent! I am playing both Guitar, and Bass through the Dumkudo.
-The build quality is impressive. It is a beautiful piece of work.
-The packaging was strong and safe.
-The shipping was excellent and fast.
-I still can not believe how fast you made it.
-Thank you for your prompt emails, and the photos also.
Duncan
2010-04-22
Tanabe-san.
I got the pedal yesterday. Everything was super well packed.
The pedal sounds very subtle and yet with lots of power.
I have to keep the level around the clock position of 9 if I want my clean sound approximately at the same level as the overdrive signal. Just like in the video:
http://www.youtube.com/watch?v=Yus9jTY-DAQ&feature=PlayList&p=DCD9B06A6F55AD1A&playnext_from=PL&playnext=1&index=23
Thanks you for your very good service and expertise.
Alexis Boyer-Lafontaine
2010-04-30
Hi Toshihko,

I got the Dumkudo today - very quick service!.
I've played it for a little while and i'm very pleased - excellent sounds..very transparent...lovely smooth overdrive. I'm looking forward to gigging with it this saturday.

Thanks again!
Gareth
2010-05-01
Hi Toshihiko,
I wanted to let you know that I did indeed receive the Dum + Zen Custom pedal, and it is MAGNIFICENT!! I don't think I've ever heard another pedal capable of producing such a wide dynamic range of tones; up to and including a wonderful, singing sustain that is truly inspiring to play with.

On top of that, it is a beautiful work of art; impeccably crafted. My current live rig is a heavily modified reissue Fender Deluxe Reverb amp, with a Fender Eric Johnson Strat, and with the addition of this pedal, I can now get the complete range of tones, sustain and distortion I've been looking for. Thank you so much for crafting such a wonderful piece of work.
Best regards--Jeff Southworth
2010-05-01

Hello Toshihiko Tanabe,

I received the Zenkudo pedal today (May 1st). I have tried it and I am absolutely delighted with it. The pedal is excellent, a smooth, sweet overdrive with wonderful tone that is so "musical". The degrees and sounds of overdrive are in abundance and when the volume is reduced on my guitar it retains its tonality and cleans up wonderfully. Beautiful!!

Truly inspiring
Many Thanks
Anthony Dunn


2010-05-14

Hi Toshihiko,

The Dumkudo arrived today, thanks very much. I've only had about 30 minutes free to try it so far, but it sounds great - exactly what I wanted. I use a Two Rock amp and am very much a fan of the Dumble sound, and the lead channel of my amp, plus the Dumkudo set to the Dumble position with the gain at about 12 o'clock sounds just like the Robben Ford sound that I like.

I do quite a lot of studio recording work and teach at a school called Brighton Institute of Modern Music (a GIT type school) so I'll be able to use the pedal a lot both live and in the studio, and also mention it to the students at BIMM. I'll also use it for the Guitar Techniques magazine column that I write and record each month, so when I have any of those ready to send audio and text to you, I shall do so. If I do any demos or reviews of the Dumkudo I'll also let you know.

Thanks very much,
Marti
2010-05-18

Dear Mr. Tanabe,
My Dumkudo arrived today.
This is by far the best overdrive pedal I have used. There is not a bad tone to be had.
Thank you so much.
Sincere regards,
Andrew
2010-05-18

Hello Toshihiko,

I just received the Zenkudo today,
the package was very very well packed !, well done !

The look of the pedal is really cool !,very classy !

I really liked the 3 positions, but myfavorite is the Green mode,... the dynamic and touch sensitive of the pedal is really good, better than my Zendrive.

I have only played it 30 minutes, but i found the sound amazing as a clean boost to very low or/ low overdrive,I miss a little bit of gain though.

I will probably buy a Dumkudo soon, in june or july mabe, to get more gain,
(i'll buy it with the optionnal polished case with white pearl and aluminium knobs again, cause it looks fantastic !)

I will let you know.

Could you explain me please what's the effect of the voice and tone knobs on the sound, cause the most you turn up the voice, and the most gain you have ?
Thanks a lot for your service, your making a great pedal !

Bye
Benoit.
2010-05-20

Hello Toshihiko,
My Twin Dum & Zen arrived sooner than I thought. I always keep a guitar and a 1 watt handmade tube amplifier made locally by Valvetone, here in my office. I have just spent two hours of sonic joy playing with your pedal, it's all there, from the classic Marshall compression and release playing chords though the red channel, to being able to express yourself from soft intimate feels to soaring leads just with your playing intensity alone on the green channel. Very Happy, I don't think I have played with my eyes closed for twenty years.
Have great day.

Kind Regards,
Glenn Armstrong
2010-06-18



Hi Toshihiko,

They tried to delivery it yesterday (6/16) and I wasn't home, pickedit up this morning (17th). Only took 3 days. It's on my pedalboard and sounding awesome.
I'm playing it this weekend at my church.
One of my buddies already came over this evening to check it out and wants one!
The first of many referrals!

Thanks and it was a pleasure doing business with you!
Great communication and customer service!

Roger


2010-06-23


Hi Toshihiko,

Wanted to give you an update. Played three services this weekend at
my church. Two of the songs had lead solos that I used the Dumkudo
on. I received rave reviews (especially from a great player who ran
up after one of the services and told me that he loved my lead tone
and "Don't change a thing!"). Our sound guy came up and also said I
sounded awesome.

Needless to say I'm very happy!

I'll send a pix soon of my pedalboard!


Thanks again,

Roger Schmidt
2010-07-06

Dear Toshihiko Tanabe,

I just want to thank you for such a fantastic pedal. It sounds so very nice. I have a zendrive, timmy, nu valve, mosferatu, okko diablo and a ts 808, and I have to say that this is by far the best pedal! I love it in dumble mode.

It has been such a pleasure to deal with you, your instant replies to my emails, your professionalism and also the care with packaging of your product and the speed of delivery has been greatly appreciated and I am recommending you to all my friends.

Once again, thank you so very much!!

Kind Regards Mark D'Rozario.
2010-08-15



Dear Toshihiko,
I received my Dumkudo pedal Friday - in 4 days, just as you predicted. From ordering (8/7) to receiving (8/13) was a very fast process - less than one week total! I'm glad I ordered now, before you get so busy that there is a longer waiting list... which I am sure will happen, as more people learn about your creations.

I have only played through the Dumkudo for a few hours, but the pedal is already clearly the best overdrive I've ever used (including Landgraff and Klon). It is a masterpiece! Playing a Don Grosh Retro Classic strat w/Fralin Blues Special pick-ups, through a 100W 1975 Mesa Boogie Mark I head (which I bought new in '75) and two 12" Altecs, I found the Dumkudo to have a wide range of usable natural overdrive tones while adding definition, clarity, sparkle and more dimension at any volume... Big huge tone - from clean to scream - never thin, brittle, muddy or noisy, even with lots of gain... and basically disappearing on bypass.

The 3-mode switch is great - there is so much to explore... I know I haven't discovered a fraction of the tonal possibilities, but already the Dumkudo, all by itself, has replaced 3 of my other pedals; a Suhr Shiba Drive, a Hermida Zendrive 2 (with the tube) and a Jersey Girl Fulltender - all great pedals, but Dumkudo essentially does the work of all three, and in one much smaller box! Now I can sell those 3 on eBay, getting back my Dumkudo investment with enough left over for a new Sunkudo too!

Thank you so much for your attention to detail in the solid build quality and beauty (both aural and visual) of the pedal, and in your personal attention throughout the ordering process. I will be highly recommending you to all my guitar-player friends, and you haven't heard the last from me - I'll be back in touch again soon.
Have a good trip to LA and Vegas, and our best wishes for your daughter's wedding. Please keep my phone number, and remember if you ever get to Berkeley, make sure you come by to visit Atsuko and me...
Take good care and "domo arigato" thanks again,
Scott Shafsky
2010-08-18

Mr. Tanabe,
I received the Dumkudo pedal last week,
and I have been using it. I can say that the
Dumkudo is far better than any pedal I have
ever used before. I am very happy with it.
Thank you so much for the fast service
and a wonderful product.
Best regards,
Sid Simo
2010-08-27



I just received my Dumkudo pedal yesterday! It is better than I expected! Shippng time was very fast and packaging was incredible. Thank you again for provided such a unique and professional product.

Jason W. Cooper
2010-08-29

Dear Mr. Tanabe,
My Zenkudo arrived today. I am very pleased with the pedal, it is of excellent quality. In the Dumble setting (my favorite so far) it has an extremely wide dynamic range. It also has tonal fullness that I have not experienced in a pedal before. I can get a very wide tonal variety based solely on touch, no control manipulation on the instrument or pedal. I want to thank you for creating this product. It is responsive to the degree that my guitar feels
different to play, even string bending seems easier.
Sincerely,
Danny Bresett
2010-09-23

Mr. Tanabe,

THANK YOU, THANK YOU, THANK YOU!

I received my DUM+ZEN TWIN CUSTOM pedal yesterday…and I have to say, you have created an INSPIRATIONAL MASTERPIECE!

I was planning on trying my pedal first through my recording amps at my studio, but I couldn't wait that long! So, I plugged my '62 RI Strat into a little Fender Blues Junior in my home office, and I tried the Zenkudo side first. It was a nice mild mannered, well behaved OD that was perfectly acceptable and touch sensitive. Then I switched over to the Dumkudo side, it's a hotter, edgier and singing OD that had some nice crunch and saturation. I'm sure if I had just bought the Dumkudo alone I would have been pleased. Both sides have a touch-sensitive response that cleans up nicely when you roll the volume on the guitar back. All three voicing options are nice and have their uses. Having two sides, it offers lots of tonal options. I have no doubt that I could use THIS LITTLE RIG on any club gig if needed!

Then, out of curiosity, I tried both sides, together and…WOW! The tone and notes that came out of my guitar had a harmonic depth that I have never heard another pedal create. The tone was heavenly! I have NEVER heard my Strat sound like this…it had SUSTAIN LIKE A GIBSON! It has never sounded like that through ANY amp…and this sound was coming through a tiny practice amp! It also sounded like being plugged straight into an amp rather than a pedal…and, not just any amp, the BEST SOUNDING AMP EVER! If I had only bought the single version of either the Dumkudo or the Zenkudo, I'm sure I would have been pleased as well…but the TWIN CUSTOM version is AMAZING!

I like to push the Dumkudo "green," wide open on the gain, into the Zenkudo "blue," at about 10-11 o'clock. I call this sound "The Equalizer" because it sounds great on every style of music, and has a range of tones at your fingertips that sound like ANY RECORDED guitar part you want to emulate!

I've heard people talk about effects having a very "musical" sound…that is how I describe this pedal! Every chord, note and harmonic feedback has such a sweet sound, it's like my guitar is singing! I feel like I'm a member of a secret club now! I'm addicted, a believer and inspired!

If you're reading this and can't decide which pedal to get…this is "THE ONE" and it's the only OD/D pedal you will EVER need! DOUBLE THE PLEASURE… It's a very versatile pedal! I have no doubt that this pedal could make ANY AMP, and PLAYER sound AMAZING!

Mr. Tanabe, thank you for bringing this pedal into being! You are truly gifted!

Debbie Landry

P.S. I'll let you know how it sounds through my live and studio rigs and my various guitars!
2010-09-26

mr. tanabe!
i received my SUNKUDO FUZZ yesterday. that was FAST!
it looks and sounds absolutely fantastic. i'm just starting to explore the
beautiful noises in this thing. so far, so great! i'll deliver a full
report as soon as i beat the smile off my face.
you obviously love what you do, and you do it very well!
domo arigato...blaine capatch.
2010-10-10

Hi Toshihiko,

Sunkudo pedal. I have tried it today, and I must say that it sounds amazing! The sound is fantastic, great tone and I am mostly surprised how 'open' and clear it sounds, even though it sounds fat and heavy. It is not muddy like other pedals that I have tried. I also have lots of fuzz effects in my Boss GT-10, but yours is so much better. What a sustain!! And so different from the Dumkudo and Zenkudo. I did not expect that it would be such a great adding to my pedal board. All of a sudden I sound like a real rocker, haha.

Walter Goyen
2010-12-19

Tanabe-san

The Zenduko arrived today and sounded as beautiful as it looked. Unlike most OD pedals, the Zenkudo only enhanced the
natural tone of the amplifier and did not color the tone like some others.

It sounds amazing as a stand alone pedal in front of a Fender-type clean tone, and as an additional boost in front of a Plexi type
breakup.

I immediately put it on my gigging board and will be giving it a proper workout tonight:

Thank you for the fantastic pedal and service.

Matt Valencia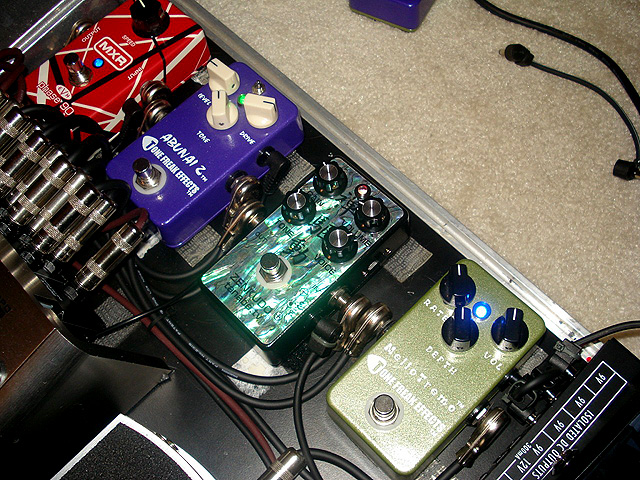 2011-02-10

Hello Mr. Tanabe,

I have been using the Dumkudo pedal you made for me for the past month mostly in the context of blues/funk. It has been played through Strat's, Tele's, Les Paul's and a Music Man Steve Morse model—all run through a 1963 Fender Deluxe. Most of my pedal settings are straight up except for the volume pot which I use to match the rest of my board. My favorite setup is the Strat and the Dumkudo in the green mode, which gives me a rich sound that is sensitive to pick attack. During most of my gigs, I leave the Dumkudo on and step on a Tube Screamer (while leaving the Dumkudo on) to provide more overdrive. The Dumkudo is very solidly built and I have not hesitated to use it on the road and in the studio. This is a very dynamic pedal that I would recommend to others. Thank you, Mr. Tanabe!

John Priscu
2011-04-21



Hi Toshihiko,

Guess what ? I've just received my Dumkudo today, only five days after you shipped it !!! It's amazing, very fast shipping !!!

Everything is in order and I've already tested the pedal... Let me tell you this is a very fine quality pedal ! I already love it ! And the packaging is really cool too...

The sound is much better than the idea I had through Youtubes videos, and it's very impressive how quiet it works. No noise, a clean and detailled sound even at maximum level.
Drive is really usable and responsive : a great pleasure for my fingers. Controls are very effective, their range is well balanced.

I am really happy for this purchase, and I thank you very much for your incredible work. I hope you'll keep going to make many more great pedals in the future.

Best Regards,
BUSTAMENTE Olivier ( A happy user from France.)

P.S: Please, could you translate the Japanese ideograms which are on top of the pedal ? I am just curious... Thank you.
2011-04-24

Hi Toshihiko,
I received the new pedal yesterday. It sounds amazing!!! Thank you very much.
Thanks again,
David Harvey
2011-04-24

Hi Toshihiko,
I received my DUMKUDO last night right before I had to leave to go to my gig. I didn't have a chance to try it out before that so I just plugged it in and WOW!!!!!!1 I have been looking for this tone since I began Playing lap steel guitar nearly 40 years ago.
Thanks for making a great product. It is my new secret weapon.
Best regards to you and your family,
Kirk Eipper
2011-05-22

Hi Tanabe San, I received the Dumkudo today.
I love it! It's a great pedal and look forward to using it for a very long time.
Arigato Gozaimas,
Eddie Martinez ( U.S.A.)
2011-05-28

Hi Toshihiko,
My Dumkodo pedal arrived safe and sound via courier this morning.
I have spent a bit of time today checking it out with a bunch of stuff including a 1977 Mk1 MESA Boogie and a small tweed fender type amp made by A&O in the US. Guitars were a 2005 Hamer Custom Shop Studio 'Triple Threat' and a 1996 Custom Shop maple neck Fender Strat
My verdict ? It's outstanding! This is a great sounding and very musical pedal.
Results with the Hamer were good - particularly on the 'red' setting.
However, when I plugged in a maple neck Fender Strat it transformed the sound of the guitar - so much so I was frankly taken by surprise at how rich it made the tone and the variation across the three settings. Clearly this is a perfect match for single coil guitars but really brings out the singing highs as well as grunt in the 'bottom end'. It's a little piece of magic in a jewel like box - i'm intrigued how good it actually is - it's more of a musical instrument than a pedal as it really seems to add a lot to the overall sound.
I also did an A/B with my trusty Zendrive. On the Fender the Dumkodo is way ahead in my opinion. With the Hamer I prefer the Zendrive (however, I guess that's why you have the Zenkudo). Clearly the Dumkodo is a very very good piece of kit and a absolute 'keeper' well worth the price. So as you can guess – I'm pretty happy!
Thank you very much, it has been a pleasure dealing with you.
Kind regards
Ron Fielding ( New Zealand )
2011-06-02

Toshihiko, To my surprise my Dumkudo pedal arrived wed.(faster than items coming from down the street!). In minutes, i found more useable sounds in this pedal than all of my overdrives put together!...all rich beautiful tones in all modes. I have friends looking to order from you soon..thanks for the quick email replys and the classy packaging..please don't change Toshihiko..Thanks again, Xavier.

Xavier Marquez (U.S.A.)
2011-06-19

Daer mr Tanabe,
I received your pedal today. I tried it and it sounds excellent and great!!!
Thank you also for your quick service.
wth kind regards ,
Gijsbert Kos (The Netherlands)
2011-06-27

Toshihiko,

I used the Zenkudo today. It is everything that I expected, and more. Your attention to detail is truly unique. This pedal gives me the sound that I having beeing trying to obtain for 30 years. It is such a classy overdrive; truly a professional sound. In only a short while, using the green setting, I was able to replicate the wonderful sounds of Larry Carlton and Robben Ford. Very soon, I will be buying another Zenkudo just in case anything happens to this one. I will never use another overdrive pedal again!

Thanks again,

Mario Paparozzi, Ph.D.(U.S.A.)
2010-10-26

Mr Tanabe-
OH MY GOD!!! WOW!!! Pure guitar tone, tone, tone and more tone!!! It is a pleasure to play thru this beautiful pedal and a true privilege for me to make make this the centerpiece of my guitar rig. This is the BEST pedal I've played and owned in my life. Thank you for such a truly excellent item full of magic and good vibe. May God bless you and bring you much happiness.
Your biggest fan,
Miguel R. Crisantes (USA)